FIVE LOCAL STUDENTS WIN ANNUAL UNITED WATER AND
NATIONAL ASSOCIATION OF WATER COMPANIES SCHOLARSHIPS
Recipients from Westchester and Rockland high schools receive $3,000 awards
WEST NYACK, NY, June 9, 2015 – United Water and the National Association of Water Companies (NAWC) NY Chapter are proud to announce the recipients of this year's student scholarships: Sonya Chandy of Port Chester High School, Andrew Duffy of Spring Valley High School, Daniel Rivera of North Rockland High School, Nicole Vitale of Nanuet Senior High School and Julia Wojciechowski of North Rockland High School.
NAWC scholarships are designed to assist eligible seniors who are attending college in New York and pursuing a STEM or water industry-related degree, including the fields of natural resource management, environmental sciences, biology, chemistry and engineering. The $3,000 awards were presented at the NAWC Spring Conference at West Point's Hotel Thayer.
"To have a successful future for the water industry it is important to encourage and support the growth of the young minds that will eventually lead this field," said Chris Graziano, general manager of the United Water New York Division. "It is an honor to participate in a program that gives talented students the tools they need to further their education and reach their dreams. The accomplishments these young adults have made thus far are impressive, and we applaud their decisions to study fields related to the water industry. We wish the very best to Sonya, Andrew, Daniel, Nicole and Julia as they continue on their journey to college."
Sonya Chandy, a resident of Port Chester, is an avid clarinet player, participating in both concert band and marching band. She is also president of the National Art Honor Society and a member of both the National Honor Society and Tri-M Music Honor Society. Sonja also volunteers her time through the One World Youth Club and Power of Peace. She plans to study to become a chemical engineer at Rensselaer Polytechnic Institute.
Andrew Duffy, a resident of Airmont, is president of both the Science Honor Society and Math Honor Society. He is also active in numerous school clubs, such as the Thespians Theater Society, Forensics League, Math Team and Science Olympiad. Andrew also dedicates time to his community, serving as president of the Key Club and as a youth interviewer for the Spring Valley Rotary. He plans to attend the University of Rochester.
Daniel Rivera, of Garnerville, is a member of the National Honor Society, World Language Honor Society, English Honor Society, Math Honor Society and Technology Honor Society. He also serves as president for both Key Club and Youth Against Cancer Club. Daniel has also donated his time to Arts Alliance of Haverstraw and St. Peter's Religious Education. He plans to study engineering at the City College of New York.
Nicole Vitale, a resident of Pearl River, is a member of the National Honor Society, Math Honor Society, Foreign Language Honor Society and Tri-M Honor Society. She is also an accomplished saxophone player, participating in band and jazz band, along with the New York State School Music Association, Senior All County and numerous community parades. Nicole also serves as acting varsity captain on the tennis team. She plans to pursue a career as an environmental engineer and will attend Binghamton University.
Julia Wojciechowski, of Stony Point, is a member of the National Honor Society, World Language Honor Society, Science Honor Society, Technology Honor Society, English Honor Society and Social Studies Honor Society. She also participates in field hockey and track and field, for both the winter and spring sessions. Julia serves as a Girl Scout leader and as a counselor in training at the Lithuanian Heritage Camp in Brattleboro, Vermont. She plans to study civil engineering at Rochester Institute of Technology. 
A three-person panel judged the applications. The judges were Dr. John Durney, Provost, St. Thomas Aquinas College; Patsy Wooters, Rockland Water Task Force; and Chris Bresnan, Chief of Staff, Office of Assemblyman Ken Zebrowski.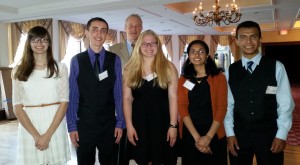 Photo: Walton Hill (rear), United Water Senior Vice President, with the winners of the United Water NAWC Scholarship: Nichol Vitale, Andrew Duffy, Julia Wojciechowski, Sonya Chandy and Daniel Rivera.
=========================================================================================
Goldberger Named Chairman of YMCA Board
WHITE PLAINS, NY (February 2015) — Charles A. Goldberger of McCullough, Goldberger and Staudt LLP has been elected Chairman of the Board of the YMCA Central and Northern Westchester, the firm recently announced.
Goldberger has served on the board of the YMCA and as its legal counsel for many years. This is his second time in the role of chairman. He took the position at the Jan. 22 meeting, the first of the year, after his election in December. The YMCA consists of the White Plains facility, a community YMCA in Somers and Camp Combe YMCA in Putnam County
A senior partner in MGS, Mr. Goldberger heads the litigation department and concentrates on commercial, construction and personal injury litigation, commercial arbitration and Surrogate's Court litigation. He is a member of the Westchester, New York State and White Plains Bar Associations, and of the New York State Trial Lawyers Association. In addition, he is a member of the Board of Directors of The Hebrew Hospital Home, Inc. and serves as General Counsel to several cooperative and condominium associations. He also serves on the Westchester County Parks, Recreation and Conservation Board.
Mr. Goldberger has been a visiting professor in Estonia, Romania, Bulgaria, Poland and Serbia. He is a resident of White Plains.
=======================================================================================