Iona College Announces Plans for Restaurant, Market on North Avenue
SAGE Café Delivers on a Promise to Community
NEW ROCHELLE, N.Y. (January 26, 2017) – Demonstrating its continued support to the New Rochelle community and the ongoing revitalization of the North Avenue corridor, Iona College today announced plans for a community restaurant and market on North Avenue.
Called SAGE Café, the proposed restaurant and market will serve the needs for both Iona students and the broader community, and will be located in taxable commercial space on the ground floor of the newly built seven-story mixed-use facility located at 690 North Avenue — the former site of the Mirage Diner.
The announcement delivers on a commitment the College made when it purchased the Mirage Diner in 2014 and follows several significant North Avenue improvement efforts supported by the College, including North Avenue land acquisitions, roadway improvements and a storefront enhancement program.
"Iona College is excited to move forward on a commitment we made several years ago to provide the community with a casual, convenient, and contemporary dining destination," said senior vice president for finance and administration, Anne Marie Schettini-Lynch. "With the SAGE Café, we are not only delivering on our pledge, but complementing our other broad based efforts to beautify North Avenue, add to its commercial base and provide needed on-campus housing for our students."
The initial design of SAGE Café incorporates a 3,000-square-foot contemporary intercontinental-cuisine-influenced restaurant with a 2,000-square-foot market and bakery. The vision for the establishment is a relaxed atmosphere with a gourmet-style convenience market, a high-quality bakery, gourmet coffee station, juice bar and a "grab- 'n -go" area offering fresh food prepared by the Café. Because it will be located within commercial property, it will generate both property tax and sales tax dollars for the city.
Sage is known as the Mediterranean herb of wisdom. It literally translates to mean "wise one," a play on words that is appropriate for a college setting.
If approved through the city planning process, SAGE Café will be located on the ground floor of the College's new building, which is the latest show of campus improvements and beautification. Additional investments in North Avenue have been made by the College, such as providing funds to the City for roadway improvements on public property in the vicinity of the College, and providing financial assistance to property owners along North Avenue to improve the appearance of commercial storefronts.  Through the College's meal plan, more than $2 million in revenue is generated for the local participating vendors on North Avenue.
City officials, elected officials and college leaders have all recognized the impact the College has had in the New Rochelle community as the second largest employer in New Rochelle as well as the significance of the College's contributions to the improvements along the North Avenue corridor.
Iona's improvements come at a time when a recent study by a commission of independent colleges and universities shows that the College contributes as much as $258.5 million a year to the regional economy. The study, conducted on behalf of the Commission on Independent Colleges and Universities (CICU) by the Center for Governmental Research, concluded that in 2015 the College's spending translated into roughly $99.4 million in wages; was responsible for 1,850 local jobs and contributed $7.3 million in state income and sales tax revenues for state and local governments. Additionally, another $37 million is estimated to come from student and visitor spending.
The results showed that the impact of Iona College actually increased by $8 million from 2013 estimates by the same organizations. The economic impact is measured in Iona's direct purchases of goods and services, as well as the spending by its employees, students and visitors.  Further, last year students, faculty and staff of the College contributed more than 66,000 service hours to the region.
"Since its inception, Iona College has worked diligently to be a good and responsible neighbor to the people of New Rochelle and the surrounding communities," said Iona President Joseph Nyre, Ph.D. "We are pleased with the progress we have made in recent years for our student body and community as a whole, and we will continue to be a vital part of the community at large and the regional economy."
________________________________________________________________________
COMMUNICATIONS FIRM CHOOSES WESTCHESTER FOR 'COMPETITIVE ADVANTAGE'
County Industrial Development Agency benefits provide critical support
Accessibility, a talented workforce and value. These are all reasons why Arch Street Communications (ASC), a boutique communications firm which has been in business for more than 20 years, has chosen Westchester to relocate its operation and hire additional staff. The move will be made possible thanks to sales tax benefits offered through Westchester's Industrial Development Agency (IDA) and approved at a meeting of the IDA board this morning.
"We welcome ASC to Westchester and are glad that businesses large and small see all that Westchester has to offer," said County Executive Robert P. Astorino. "We've got access to a talented workforce, where you can enjoy close proximity to New York City, but without the high rents."
 The county tax benefits will help offset ASC's expenses to upgrade the 2,000 square-foot space in its new home at 31 Mamaroneck Avenue in White Plains. The facility will include an open space art department, small group meeting areas and state-of-the-art telecom, videoconferencing and graphics equipment. Construction is to begin immediately and the company is expected to move in by July. ASC will bring its current staff of eight employees and plans to hire an addition three-to-five people within the first year.
"We needed to position our company in the place most advantageous to attract and retain the best possible talent to grow our business," said Nora Madonick, president of ASC. "We also wanted to have greater access to potential clients and vendors to put ASC at a competitive advantage for contract opportunities. We did our homework and Westchester was the clear choice."
ASC provides strategic communications and public engagement support to federal, state and regional agencies and specializes in transportation, safety, air quality, energy and environmental issues. The company's first client was the Westchester County Department of Transportation and has since expanded its clientele to include dozens of key public authorities, commissions and agencies located throughout the northeast region.
---
ASTORINO ANNOUNCES GRAND PRIZE WINNER OF 2015 WESTCHESTER SMART MOBILE APP DEVELOPMENT BOWL 
Westchester County Executive Robert P. Astorino joined partners from Pace University and the David and Minnie Burke Foundation as well as other sponsors in congratulating the winners of the first Westchester Smart Mobile App Development Bowl held on April 17.
            More than 150 students from throughout the tri-state area gathered at Pace University's Kessel Student Center to present their final projects to a panel of professional judges. For the past two months, students have been working on developing mobile apps to help patients with Alzheimer's disease and dementia.
            Astorino, along with Dr. Amar Gupta, Dean of the Seidenberg School of Computer Science & Information Systems at Pace University, and William McGrath, Senior Vice President and COO of Pace University's Westchester Campuses, were proud to announce Team ASSIST, a brother and sister duo from Yorktown Heights, as the grand prize winners. Lindsay Aldrich is a junior at Yorktown High School and Mark Aldrich is a freshman at Soundview Preparatory School in Yorktown Heights.
            The winning application makes it easier for caregivers to help patients and their families by organizing tasks and sharing responsibilities among each other. The application includes intuitive capabilities such as an "unfrazzle" feature that makes it easy to use and understand.
The pair received $1,000 in cash as well as a camcorder, camera and headphones donated by Panasonic. They will also be honored at Westchester County Executive Robert P. Astorino's State of the County address on Wednesday, April 22.
            "What's happening here today is truly special. Here our best and brightest are demonstrating the ingenuity and goodness of an emerging generation. The students here are what we proudly call Westchester Smart," said Westchester County Executive Robert P. Astorino in his address to the students at the awards ceremony. "Their mission was clear: Develop a mobile application that will aid people suffering from dementia and Alzheimer's disease. How wonderful is it to see members of a younger generation burning the midnight oil to help ease the burdens of men and women at their twilight."
            In addition to the grand prize, cash prizes of $500, $350 and $150 were awarded in four different categories. The winning teams in each category were:
Mobile App Caregiver Award
First Place: ASSIST (App Specialists in Science and Technology)/Soundview Preparatory School
Second Place: The Koding Kidz/Fox Lane High School
Third Place: Mamaroneck Tigers/Mamaroneck High School
Mobile App Creativity Award
First Place: Silver Cross/Pace University
Second Place: Mamaroneck Tigers/Mamaroneck High School
Third Place: LumInosiTy/St. Francis Preparatory School
Mobile App Alzheimer's Association Functionality Award
First Place: LumInosiTy/St. Francis Preparatory School
Second Place: The Koding Kidz/Fox Lane High School
Third Place: Independents/Ossining High School, Suffolk County Community College and Manhattanville College 
Mobile App Tata Usability Award
First Place: The Koding Kidz/Fox Lane High School
Second Place: Mamaroneck Tigers/Mamaroneck High School
Third Place: Independents/Ossining High School, Suffolk County Community College and Manhattanville College 
            Teams from the following schools were finalists in the competition: Blind Brook High School, Fox Lane High School, Lakeland High School, Lincoln High School, Mamaroneck High School, Manhattanville College, Monroe College, Mount Vernon High School, Nellie A. Thornton High School, Ossining High School, Pace University, Rye High School, St. Francis Preparatory School, Solomon Schechter School of Westchester, Soundview Preparatory School, Suffolk County Community College, The College of Westchester, Walter Panas High School and Westlake High School.
            The following organizations provided judges for the competition: Alzheimer's Association (Hudson Valley/Rockland/Westchester NY Chapter), Boehringer Ingelheim Pharmaceuticals, Burke Rehabilitation & Research,  Caregiver Collaborative/Pace University, Health Remedy Media, IBM, ImageWork Technologies, Infra-Scale, Mindspark, Mount Vernon Educational Foundation, NewYork Presbyterian Westchester Division, Panasonic Corporation of North America, Phelps Memorial Hospital Center, Seidenberg School of Computer Science and Information Systems/Pace University, Stryker Orthopedics, Tata Consultancy Services, The Bristal Assisted Living, Westchester County (Department of Senior Programs, Department of Information Technology and Department of Social Services),Yorktel and XL Group.
            Program sponsors were: Burke Rehabilitation & Research, Tata Consultancy Services, IBM, Alzheimer's Association, Livable Communities Caregiver Collaborative, The Bristal Assisted Living, Nancy Goodman of the David & Minnie Berk Foundation, Panasonic Corporation of North America, Liberty Lines, NewYork Presbyterian Westchester Division, Ursuline Foley of the Seidenberg Advisory Board, Mount Vernon Educational Foundation and Remedy Health Media.
=================
ASTORINO ANNOUNCES DEAL SECURING PLAYLAND'S LONG-TERM FUTURE
County Executive Secures Arrangements for $25 Million Investment by Standard Amusements
and New Management by Leading Amusement Industry ExecutiveIconic Westchester Park
Will Open for the 2015 Season on May 9
Westchester County Executive Robert P. Astorino announced an agreement today that will invest $25 million in private money into Playland over the next five years, securing the long-term future of the county's iconic 100-acre amusement park in Rye.
Nicholas Singer, a successful investor and native of Westchester, architected the deal to restore the special character of a park he frequented as a child.  The $25 million investment will go toward revitalizing Playland with new rides and attractions, as well as upgrading food choices, picnic areas, and restaurants and renovating grounds and buildings. Proposed new rides include a Double AquaLoop Slide, UniCoaster and a mini water park for young children.
"This deal meets our three goals for preserving Playland," said Astorino. "It stops the losses for taxpayers, which have been running about $4 million a year, it puts the park in the hands of a top-flight operator with strong financial resources and decades of experience, and it revitalizes Playland as a must-visit destination for family fun for years to come."
New York-based Standard Amusements will pay the county $2,250,000 up front; invest $22,750,000 million of its money within five years into refurbishing the park; and make annual payments to the county starting at $300,000 and escalating 2% a year. The county will also receive 7.5% of profits once Standard Amusements has recouped its initial investment.
"Rye Playland was a special part of my childhood, and I couldn't be more excited to play a role in its future," said Singer, a partner of Standard Amusements. "I'm proud that our longstanding vision to revitalize Playland has finally reached this stage and, given my discussions with members of the community, I am very hopeful that our plan will be approved by the Board of Legislators. I am eager to restore the park to its original grandeur and to ensure its success for decades to come."
For its $25 million investment, Standard Amusements will receive the right to operate the park for 15 years with an option to renew for an additional 15 years under what is being called the Playland Management Agreement (PMA). Standard Amusements has entered into an operating arrangement with United Parks, which is headed by CEO Jack Falfas.  The structure of the PMA allows the county to retain full control of the property, as well as any material benefits from the capital improvements made by Standard Amusements.
Playland will open for the 2015 season on May 9 under current county management.
The rejuvenation of the park will be handled by Falfas of United Parks, who will be personally overseeing Playland's operations and will take up residence in Rye during the first full year of the agreement. Falfas is a leading amusement park executive with more than 40 years of operating experience across the country. David Glazek, a partner in Standard Amusements, said: "We are thrilled that Jack has agreed to lead this important project. His extensive experience with amusement park turnarounds makes him ideally suited to help Playland regain its status as the crown jewel of Westchester County parks." 
The agreement now goes to the County Board of Legislators, which has 60 days to approve it.  Upon board approval, Standard Amusements would co-manage the park with the county for the remainder of the 2015 season, beginning the transition to its role of sole operator on Nov. 1, 2015.
"My colleagues and I at the Board of Legislators are hopeful that this management agreement will prove to be a good one for Playland, Westchester taxpayers, and the residents of Rye," said BOL Chairman Michael Kaplowitz. "We are here together at what we hope is the first step toward a bright future for Playland. Through the Board of Legislators Parks Planning and Housing Committee, we will set an ambitious schedule for a thorough and expeditious review of the new plan that County Executive Astorino has presented to us today."
The PMA follows a recommendation in the report commissioned by the county from Biederman Redevelopment Ventures, whose principal is Dan Biederman, one of the nation's leading experts on improving and revitalizing public spaces. The report recommends that the "daily operation of the amusement park and parking lot sections of Playland should be transferred to Standard Amusements" and reached its conclusion after extensive outreach and conversations with virtually every operator who could potentially run the park. 
 "Nicholas Singer and his team at Standard Amusements offered the best path forward for the county because of their willingness to guarantee a $25 million investment in the park," said Biederman. "Without this kind of cash infusion and private management, hopes of rejuvenating and reinvigorating the park are not realistic."
Under the agreement, Standard Amusements will manage the amusement park, parking lot, beach, pool area and boardwalk. Outside the agreement are the Children's Museum, Pier Restaurant & Tiki Bar, Edith Read Sanctuary and the Ice Casino, which is run by American Skating Centers Entertainment through a separate asset management agreement with the county.
Standard Amusements will continue the park's current admission policies. Entry into the amusement park will be on a fee basis. Access to the boardwalk and property that surround the amusement park will be free of charge and open to the public.
The investment by Standard Amusements will be used to upgrade the park's overall appearance (painting, landscaping, façade replacements, pavement work, signage, bathhouse, picnic area and fountain renovations), improve the dining experience (more variety and new venues), restore historic rides, add new attractions (coasters, slides and water elements) and increase marketing. The agreement also gives Standard Amusements the option to have temporary athletic fields installed in the parking lots to accommodate spring and fall sports.
_____________________________________________________
2015 Equal Access to Justice Dinner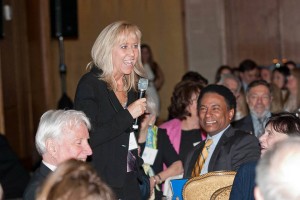 Photo: Courtney Rockett, Partner at Boies, Schiller & Flexner LLP and a member of Legal Services of the Hudson Valley's Board of Directors who chaired the event's Fund-a-Need program, with Lawrence Otis Graham (on the right), Special Counsel at Cuddy & Feder LLP, News 12 Contributor, and our 2015 Master of Ceremonies, at our dinner last night.
===============================================================
NewYork-Presbyterian/Westchester Division Certified as 'Green Business'
NEW YORK, NEW YORK (February 2015) — NewYork-Presbyterian/Westchester Division is the first hospital to earn green business certification through Westchester Green Business-Certified (WGB-Certified), a program launched by Westchester County and The Business Council of Westchester in 2014. The hospital accepted the award at a ceremony last month.
"As members of the Westchester community, we are proud to achieve WGB-certification," said Dr. Philip Wilner, vice president and medical director for Behavioral Health, NewYork-Presbyterian/Westchester. "NewYork-Presbyterian believes that promoting environmental sustainability is an essential part of our mission to provide the highest-quality patient care."
In recent years, NewYork-Presbyterian/Westchester has unveiled several initiatives aimed at reducing its environmental footprint: the hospital has reduced energy and water consumption by installing LED-lighting by roadways and sidewalks and low-water usage fixtures. The hospital also provides staff with greener transportation options in part through an extensive shuttle service program. Finally, the hospital has pursued and received recognition awards from organizations such as Practice Greenhealth, the nation's leading healthcare environmental stewardship organization.
WGB-Certified is an expansion of the highly successful Westchester Green Business Challenge, a public-private partnership launched in 2009 by Westchester County in partnership with The Business Council of Westchester. Companies that join WGB-Certified undergo a valuable and rigorous process resulting in measurable cost savings and reduced greenhouse gas emissions. Through collaboration and peer-learning, WGB-Certified participants set environmental policies and implement strategies for energy efficiency, transportation, waste management, land use and water.
=======================================================================================
Custom Penthouse at Ritz-Carlton is Largest Condominium Home Sold in Westchester
Second Penthouse at Downtown Towers Also Fetches Top Dollar as Market Shows New Strength
WHITE PLAINS, N.Y. (January 13, 2015) – Louis R. Cappelli, Managing Member of Renaissance Rental Partners, LLC, sponsor of The Residences at The Ritz-Carlton, Westchester, has announced the sale of a 10,700 sq. ft. full floor penthouse in Tower 2 of the mixed-use development comprised of two 42 story residential towers and a full service Ritz-Carlton Hotel. The price for the customized penthouse located on the 41st floor is $10,500,000.  The buyers, whose names are not disclosed, are a European family whose business interests include real estate on an international level.
In addition to this sale, the last penthouse in Tower 1 was also sold in the 4th quarter of 2014 to anAmerican financial executive. The price for the 41st floor, 5,200 sq. ft. customized penthouse was $5,000,000.
"These sales represent the largest condominium homes to be sold in Westchester County and reflect the growing confidence on the part of not only American buyers, but Europeans who clearly understand the true value of top quality real estate outside of Manhattan," said Cappelli. "These individuals are savvy buyers who know that a comparable residence in Manhattan would be triple or quadruple the price. 
Cappelli pointed to unequaled views of the Manhattan skyline, Long Island Sound and Westchester/Connecticut countryside, coupled with the ability of buyers to take a raw penthouse space and design a residence customized to their individual taste as important factors in the decision to purchase.
"Of course", he added, "the fact that the incredible space and views are complemented by the legendary service provided by The Ritz-Carlton Hotel Company management, creates the perfect package for an unprecedented lifestyle."
=======================================================================================
Platinum Mile Office Park Gets A New Name and a New Look
Purchase Professional Park Undergoing Major Modernization and Rebranding
PURCHASE, NY (December 2014) — One of Westchester County's premier professional office parks is getting a new look and a new name. Formerly known as the Harrison Executive Park, the 13-acre campus is undergoing a major capital improvement program and rebranding as the Purchase Professional Park.
Situated on Westchester Avenue in the heart of Westchester's Platinum Mile (I-287) in Purchase, thePurchase Professional Park combines first-class office and medical space, exceptional amenities and one of the most convenient office locations in the region. The park-like campus features three modern buildings (3000, 3010 and 3020 Westchester Avenue) totaling 135,000 square feet of Class A office and medical space.
A fourth building comprised of 85,000 square feet of medical space — 3030 Westchester Avenue — is scheduled to be completed and occupied in the first quarter of 2015, bringing the total square footage of the park to 220,000 square feet. 3030 Westchester Avenue has been fully leased to WESTMED Medical Group, a large multi-specialty group medical practice. 3030 Westchester Avenue is the first new office building to be built on the I-287 corridor in more than 25 years.
Purchase Professional Park is a true suburban office and medical park offering the latest in corporate quality amenities and services, including: on-site café, fitness center, 24/7 building access with state-of-the-art camera security, landscaped courtyard with fountain and seating areas, on-site owner management and abundant complimentary parking.  The complex offers a highly visible and convenient location at Exit 10 off of I-287, with access to major highways including I-95, I-684 and the Hutchinson River/Merrit Parkways, and is just minutes away from the Westchester County Airport and Metro-North train stations in Rye, Harrison and White Plains, providing access to the growing suburban patient base in Westchester, Fairfield and Putnam counties.
Simone Development Companies and its development partner Fareri Associates are nearing completion of a major renovation and modernization of the existing buildings and common areas at the Purchase Professional Park. The renovation work includes refurbishing the exterior facades, renovating all of the lobbies as well as all common area hallways and restrooms, and replacing the elevators and elevator cabs with new finishing throughout all three of the complex's existing buildings. Landscaping is being upgraded throughout the campus and the existing courtyard will have a new fountain as its centerpiece, along with new plantings, pavers and outdoor furniture for visitors and employees working at the complex to enjoy. Further, new, brighter and more energy efficient LED lighting is being installed throughout the on-site parking areas at the campus, and all interior and exterior signage is also being replaced to display the complex's new name.
"The renovations and modernizations that we are making at the Purchase Professional Park are a significant investment by our company that will clearly position this complex as the choice location for medical practices and business professionals in Westchester County. We are particularly excited about the addition of WESTMED Medical Group's full-service facility at the Purchase Professional Park. 3030 Westchester Avenue will be one of the most technologically advanced medical buildings in the region offering patients the convenience of a one-stop shopping medical experience all under one roof," said Joseph Simone, President of Simone Development, whose Simone Healthcare Development Group partners with hospitals and large medical practices in the site selection, acquisition, design, construction and management of the state-of-the-art medical facilities.
======================================================